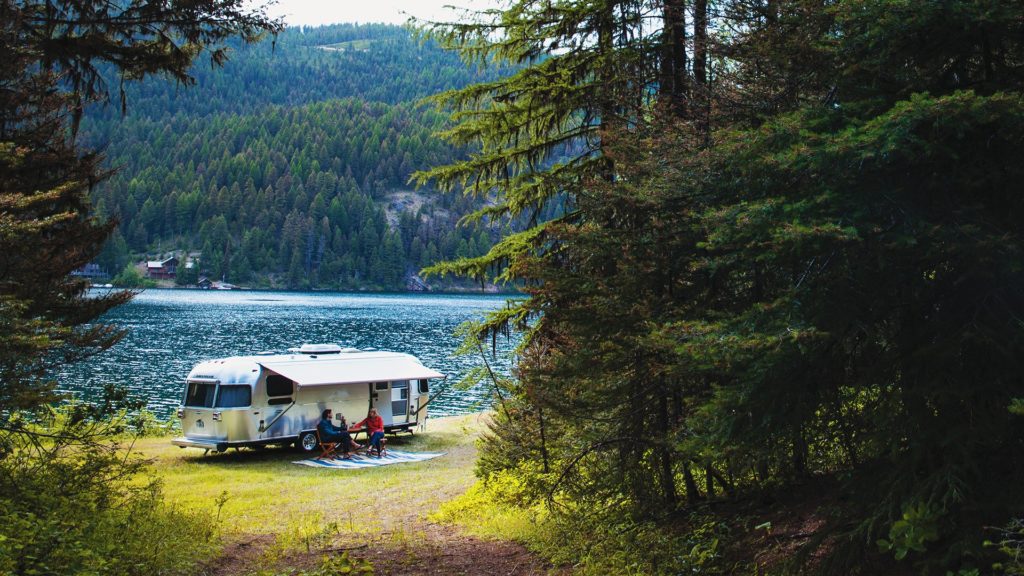 No, Airstream Trailers are not better for boondocking than most other trailers, but they're still a pretty good boondocking trailer.
It's not that Airstream Trailers are better suited for boondocking, they are about as reliable (or unreliable) as many other trailer brands on the market. But there are some things to consider when boondocking full time in an Airstream.
Are Airstreams Trailers Better for Boondocking?
The frame of an Airstream consists of aluminum beams. These beams get hot when hit with direct sun, and transfers that heat straight inside the trailer. This is probably the biggest concern with boondocking full time in an Airstream.
But that being said, the heat can be addressed with adding an air conditioning unit, or two of them if your trailer is long enough to accommodate both.
However, the problem with running air conditioning units in an Airstream is that these trailers don't come with a built-in generator. A typical 15,000 BTU AC unit will require 3,500 watts needed to kickstart, which requires a large, heavy generator. Or, you could add an "soft start" device to the AC unit and then only need 2,000 watt generator to start it up.
Read our other article, "Do I Need a Generator for Boondocking?" for more depth on this subject.
Airstreams Are Not 100% Aluminum
Airstreams still rely on a plywood floor, still have wooden cabinetry, and still use a steel under-carriage. This means wood rot and mold, and rusted welds on the chassis.
If you spilled a lot of liquid on to the floor, you will have to mop it up quick before it soaks into the plywood, or else that $100K Flying Cloud you just bought will be hosed.
The under-carriage alone is a huge issue. Because Airstreams use the same brand of steel chassis that most other trailer manufacturers rely on, they are subject to the same problems that plague those other manufacturers. Cracked welds are a common problem when towing a trailer over rocky, rutted, washboarded terrain. Those cracks produce rust, and eventually the chassis will fail.
If you can start a habit of crawling under your Airstream every few months, inspect every weld on the chassis, and brush off all rust, and repaint, you'll do fine.
Airstream Trailers Have Low Ground Clearances
While low ground clearance on a trailer is not a deal breaker for boondocking, it does reduce your choices for dispersed camping.
Airstreams Were Designed for Developed Camping
Airstreams were meant to be used in RV Parks and developed campgrounds. They were not meant for boondocking, dispersed camping, nor were they meant to be towed off-road. They were meant to be towed along pavement, backed into a developed campsite, and plugged into an electrical pedestal.
Yes, many do come with solar panels and battery banks, but you will not be able to run your air conditioning units on long hot summer days off of solar and battery. Hence, you will have to get a portable generator.
They come with the same low-grade appliances, components and hardware that most other trailer manufacturers use, hence why Airstreams were not intended as full time living units.
Even though many people do live full time in Airstream trailers, they spend a lot of money on repairs, just like with most other brands of trailers.
Should I Buy an Airstream for Full Time Boondocking?
Well sure, absolutely!
If an Airstream is what you want, then get it. They are still very good trailers. Just don't fall for the idea that they are "better" for boondocking, or "more reliable" than other trailers. They are actually just about the same.
Airstreams are designed for looks and luxury. Many people buy them for the iconic appeal and for the unique club that owners belong to. They are regarded by Airstream owners as highly comfortable, and have a passionate following and dozens of Streamer Rallies each year.
You can boondock full time in an Airstream and do so effectively and comfortably. But, they are not necessarily better built for boondocking.