Generally speaking, yes… toy haulers are better for boondocking than travel trailers. This is because toy haulers are designed to carry more weight than travel trailers, making them more sturdy for towing across dirt, sand, rocks, and mud.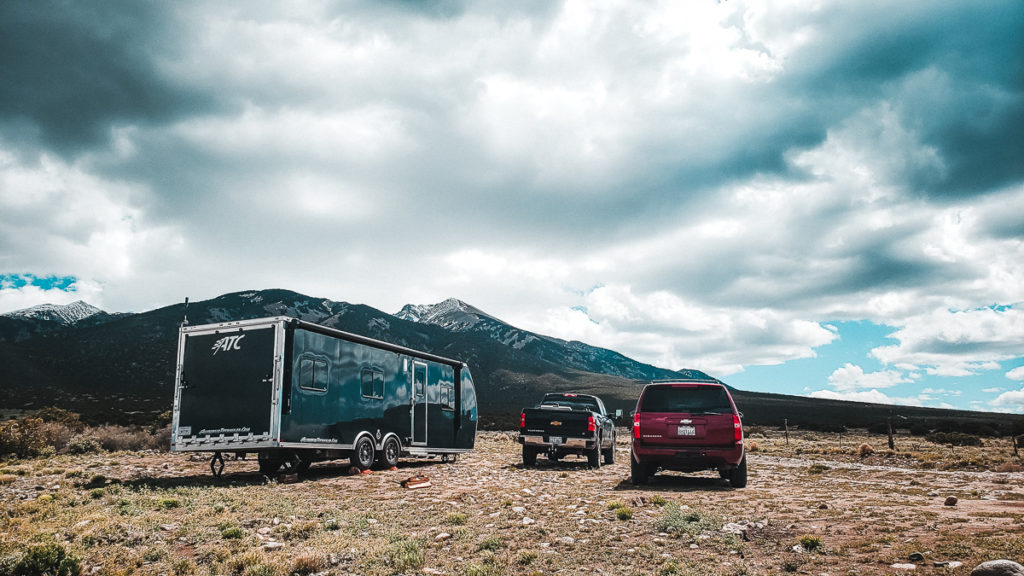 Are Toy Haulers Better for Boondocking Than Travel Trailers?
Toy haulers can handle much heavier loads than travel trailers, and thus are built more sturdy. As a result, they can withstand the rigors of bumpy, rocky dirt roads for a longer period of time.
Also, because they can handle heavier loads, they can carry a lot more. You can bring your 7,500 watt generator, and your rolling-barbecue grill, extra propane tanks, residential mattress, and all your tools, toys, shoes, clothes, clothes, and more clothes.
The ramp door of a toy hauler allows you to easily load and unload large items. By comparison on a travel trailer, anything large still has to be carried up steps and pulled through that tiny entry door.
What is the Cargo Carrying Capacity (CCC) of a Toy Hauler?
More Reasons Why Toy Haulers Are Better for Boondocking
The ramp door is helpful for large stuff. If you plan to take your bicycle, or a large generator, or a full-size barbecue grill, you can load it through the ramp door. Try carrying a 3,500 watt generator through the door of a travel trailer… it's very difficult.
The ramp door also doubles as a patio. Most toy haulers have cables for the ramp door, allowing you to keep the door level with the floor so that it acts as an outdoor patio. Many toy haulers have options for ramp door gates, awnings, bug screens, and step-ladders.
Toy haulers carry more water. Because they are designed to carry more weight, most toy haulers in the 25-32 foot range have 100-gallon water tanks, compared to 50-gallon tanks for similar-sized travel trailers.
Most toy haulers come with gasoline tanks, ranging from 30-40 gallons, with a pump to refuel other toys. This can also be used to refuel your tow vehicle.
Many toy haulers come outfitted with a HappiJac bed, which is a bed that raises and lowers over the garage-area. A HappiJac bed can also be used for additional storage.
Do Travel Trailers Offer Any Advantages Over Toy Haulers?
Travel trailers often have a large bay window in the rear, excellent for admiring the natural beauty of boondocking. Toy haulers have no such window because of the ramp door being there.
Most travel trailers come beautifully decorated from the factory, because let's face it… an RV dealer can't make a sale if the wife doesn't fall in love with it. Even though many toy haulers are well-decorated from the factory, the garage area is still a major turn-off for women. This is why many couples go full time in a travel trailer.
Toy haulers are often more heavy than similar sized travel trailers. This means you need a bigger tow vehicle for a toy hauler. By comparison, small to medium sized travel trailers can still be safely towed by an SUV.
Toy haulers typically have only a single bathroom because of the extra space needed for the garage. By comparison, it's common to see medium to large sized travel trailers with two bathrooms.
For Additional Reading