There is a short list of basic tools you will need for boondocking. You may not ever need these tools, but these tools seem to be the most often used in boondocking, offer the most benefit, and may be the ones that will get you out of the most trouble…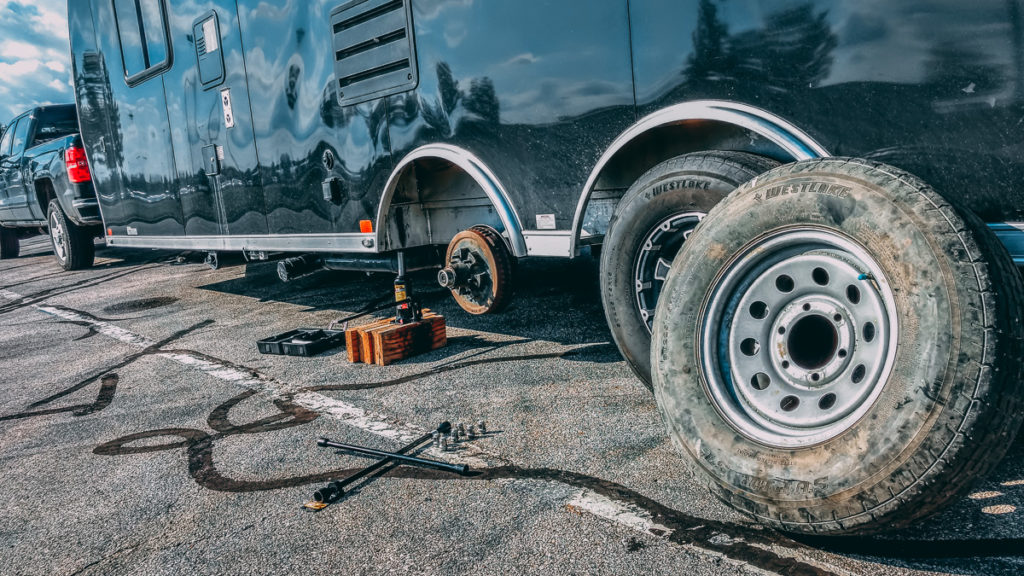 Basic Tools You Will Need for Boondocking
Many of these tools are needed just for owning an RV in general, or for car camping, van camping, etc. But these will also be more valuable for boondocking…
Lug Wrench – Needed to remove a flat tire. You could get the more familiar "4-way" lug wrench, or you can get a standard breaker-bar with the right sized socket. A 4-way lug wrench (see it on Amazon) will require more muscle to torque the lug off and on, while a breaker bar (see it on Amazon) offers more leverage for weaker arms.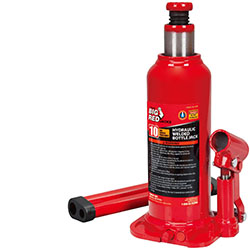 Bottle Jack – Needed to lift an RV to remove a flat tire. Get at least a 10-ton jack, they're still very affordable. (see it on Amazon).
Tire Inflator – Needed to reinflate tires when they get low. Can also be used to inflate water-toys. Get one that can run either from a 12 volt port (cigarette lighter) or a 120 volt port (wall outlet). Make sure it can inflate to at least 100 PSI. Don't buy a cheap brand because cheap units will overheat easily. We personally have the Kobalt Inflator (see it on Amazon), but there are other really good brands out there too.
Heavy Duty Extension Cord – Get yourself a heavy duty, 10 gauge, extension cord, about 50 feet long (see it on Amazon). This is capable of delivering 20 amps of 120 volt power, which is about the most you can get out of a standard 3-prong outlet. These extension cords weigh more than other extension cords, but you'll will constantly need a heavy duty cord while boondocking.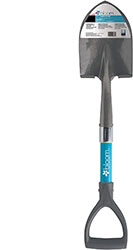 Small Shovel – This is used mainly for campfires. Some national forests will require you to keep a shovel ready when maintaining a campfire. The State of California also makes this a requirement. A shovel is also useful when your vehicle gets stuck in mud or soft sand. You can also dig a hole to poop in. We recommend a small rigid garden shovel with a D-style handle (see it on Amazon) as opposed to folding shovel. Folding shovels just don't have the strength and leverage of a rigid shovel.
Pocket Knife – Get something with at least a 3 inch long blade (see it on Amazon). Don't settle for the knife that comes with a multi-tool, though multi-tools are fun to play with. Make sure to get a proper, dedicated knife that you can use to do just about anything. Also, make sure it's a knife that you can easily keep in your pocket, or hang from your belt. Because if it's too big and bulky, you'll never have it handy.
Key Ring Multi-tool – A key ring style multi-tool is the only type of multi-tool we actually find useful with boondocking. The "Geekey" is one of our favorites (see it on Amazon). These are no bigger than a standard door key, and stays on your key ring, yet can do a lot of things. It's useful because its always there when you're sitting at the campfire, or taking a break on a hike. Otherwise, the standard "fold up" multi-tool rarely gets used because they are too bulky to keep in your pocket, and are redundant in your toolbox.
Basic Set of Hand Tools – Flat head screwdrivers, Philips screwdrivers, pliers, wire cutters, hammer, Crescent wrench, Allen wrenches, scissors. You might want to take a good look at the screws, bolts, and nuts in your RV or vehicle, just to make sure you have the tools needed to remove them.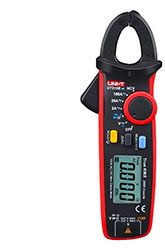 Clamp Style Multi-Meter – Used to diagnose electrical problems in your RV or vehicle. A clamp-style multi-meter can be used to measure the flow of amperage through a wire, while the test-leads can be used to find broken wires and circuits (see it on Amazon). If you have an RV, something will definitely go wrong. Even if you have no electrical knowledge whatsoever, you may find a friend or random stranger who will ask if you have a multi-meter available. Make sure to get batteries for it.
Box of Fuses – Fuses always blow in RVs. Get a box of assorted automotive fuses, these also work in trailers and motorhomes (see it on Amazon). Also get a box of assorted glass-tube fuses while you're at it for the control boards in your appliances (see it on Amazon).
Heavy Duty Work Gloves – You'll use these for a lot of things. Get something that will at least go over your wrists (see it on Amazon). They're great for managing a campfire, lifting a hot barbecue grill, keeping your hands warm in the winter, handling sewer connections, lifting heavy objects, changing the oil on your generator, the list could go on.
Cordless Drill – Of all the power tools that come in handy, the cordless drill is king. You don't need an expensive Dewalt or Milwaukee brand. The cheaper Craftsman V20 line is perfect (see it on Amazon). It's not so much for drilling holes, but for screwing and unscrewing bolts, powering a portable water pump, manually rolling out a power awning, or raising and lowering your stabilizer jacks.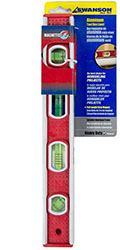 Carpenter's Level – Needed to determine if your RV is sitting level. Don't get a small level designed to adhere to your tongue jack, because these are just too unreliable. Get a carpenter's level at least 12 inches long, so that you can lay it down inside the living space of your RV, and get a true reading of how level you are (see it on Amazon).
Tow Strap– If you make a habit of boondocking, you'll eventually get your vehicle stuck in the mud or sand. You will want a tow strap so that a friendly stranger can pull you out with their vehicle. Get something that is rated to handle a minimum of 30,000 lbs of force. Rhino USA makes very popular tow straps (see it on Amazon).
Ratchet Straps – These guys always come in handy for keeping stuff secured in the bed of a pickup truck. We use them to keep our spare propane tanks from moving around. Vans and cars use them to secure stuff to their roof. Rhino USA makes great ratchet straps for medium duty use (see it on Amazon).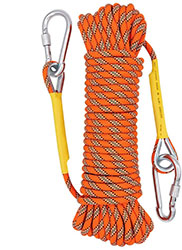 Nylon Rope – You'll never know when you need rope. It comes in handy for a lot of situations. It's light enough and cheap enough that there's no reason to leave it behind. Climbing rope works great because it already comes with looped ends (see it on Amazon).
Bungee Cords – The workhorse of keeping stuff secure… A set of bungee cords always comes in handy for a variety of reasons. They are so cheap and lightweight, there's no reason not to have them. Rhino USA makes a good basic set of bungees (see it on Amazon).
Lighter – Not only will you want one for lighting a campfire, but to light a propane stove, light candles, etc. Get a few of them and spread them around your vehicle because lighters always seem to go missing. (see it on Amazon)
Duct Tape – It's the most versatile tape in the world. You will use it often while boondocking, trust me. Get the heavy duty variety, which works better repairing tears in your awning. (see it on Amazon).
Super Glue – Super Glue always comes in handy. The problem is trying to remember where you left it. Get a few bottles, and leave them in different places in your rig.
Zip Ties – This is another versatile tool that you will find yourself relying on over and over. Get them in a variety of sizes (see it on Amazon).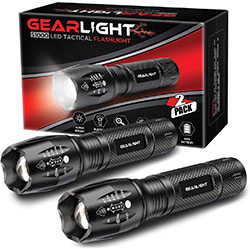 Flashlight – You will want this to shine light when you're looking at your engine, crawling under your RV, or looking to see what's making a noise outside your tent at night. Get something with a high lumens rating (see it on Amazon).
Binoculars – While mostly used for enjoyment, binoculars offer some functional use too. You can get a good look at another camper that pulled in nearby, help locate your missing dog or cat, and figure out why you're seeing smoke in the distance. They don't need to be fancy or expensive, but at least get something with 50x zoom or higher (see it on Amazon).
Gasoline Can – If you have a generator, you will want a gasoline can (or jug) for extra fuel. We recommend getting a 5-gallon can. However, five gallons of gas can be heavy for some people to carry. You may want to get a couple of 2-gallon or 3-gallon cans instead. We've used a few different brands of cans, but we like the ones made by Midwest Can, they seem to be heavier duty plastic (see it on Amazon). You can find this brand at Walmart and Tractor Supply too. Don't forget to bring a funnel, because the EPA-compliant nozzle that comes with gas cans just don't work when trying to pour into a generator tank.
Funnels – You'll need these mostly for engine maintenance, like adding more oil to your vehicle, generator, or even bar oil for an electric chainsaw. You'll want them for pouring more gasoline into a generator (the spill-free nozzle on gas cans don't work for refilling generators). You'll at least three types of funnels…
A basic set of funnels for changing oil (see it on Amazon)
A long neck funnel for pouring gas into a vehicle (see it on Amazon)
A capless gas tank funnel, if your vehicle uses a capless gas tank. (see it on Amazon). This funnel is used in conjunction with the long neck funnel.
Box of Heavy Duty Trash Bags – More than just for trash, but you can use them to store dirty laundry, or use them to cover up stuff during rains.
Ant Spray – Ants are not normally a problem while boondocking. But in those instances when they make a trail into your vehicle, you are going to wish you had a can of ant spray. Raid and Black Flag are very effective against any kind of ant.
Yoga Mat– No, not for doing yoga in the middle of nature. But for your crawling under your RV to fix something. They also offer extra cushion for sleeping bags. Even if you don't mind getting dirty, often times you'll end up camped on rocky ground, and you'll want the comfy buffer at that point. Yoga mats work pretty well for this because they are padded, and designed to roll up small (see it on Amazon).
Tools to Elevate Your Boondocking to the Next Level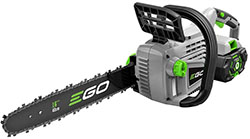 Electric Chainsaw – If you plan to gather firewood, you will definitely find dead and down branches that are too thick to break with your hands. This is where a chainsaw comes in. Getting an electric chainsaw is ideal because they run much more quietly, and don't draw the attention of forest rangers (see them on Amazon). Electric chainsaws made by EGO are highly popular. It's not that cutting dead wood is illegal, it's that forest rangers are sensitive to the sound of gas-powered chainsaws and are very vigilant against illegal tree cutting.
Firewood Tongs – When you a start a campfire, you're going to want a good pair of firewood tongs to rearrange charcoal placement for ideal flame (see it on Amazon). Make sure to get tongs designed for one-handed operation because the larger ones designed for two hands are too clumsy for smaller pieces of wood.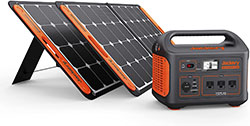 Solar Generator – These are expensive, but they are just so handy (see it on Amazon). You get a 1,000 watt inverter to power light-duty electronics like a radio, television, laptop, and phones. It can even power a tire inflator, recharge the battery for a cordless drill, run a food processor, even a run mini-fridge for awhile… When you get something that comes with its own solar panel, you can set it on the roof of your vehicle and get free power everyday.
Cordless Vacuum – When you're boondocking, you will track sand, gravel, and other debris into your RV or vehicle. A vacuum that runs off of battery is best because you don't have to fire up the generator to use it. The Dewalt Cordless Wet-Dry Vacuum is great (see it on Amazon), or get whatever power tool brand that you already have batteries for.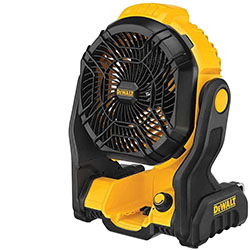 Cordless Fan – These are very handy in keeping flies and mosquitoes off of you, and of course for blowing breezes where there are none. The Dewalt 20V Max Jobsite Fan is a popular buy (see it on Amazon), but you'll want to buy the brand that you already own batteries from.
GPS Dog Collar – Let your dog enjoy boondocking too! Strap a GPS tracker to its collar and let him/her run leash free. It's not required for dogs to be leashed on BLM and USFS lands, it's only required to keep them under control. A GPS tracker allows you to see on your phone where he or she is, and even watch in real time where it's wandering. (see it on Amazon)
Night Vision Goggles – This is what makes night time boondocking fun! Watch coyotes in the distance, see deer and elk before sunrise, you might even spot a bear wandering outside your camp. Many brands of night vision goggles will record video too. The pair made by Creative XP is very reputable (see it on Amazon).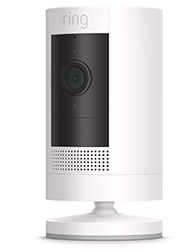 Battery Powered Security Camera – Imagine sticking a security camera on the outside of your RV or van, and being able to see from your cellphone! If you hear a noise outside, you can instantly check what's out there. These cameras stick with adhesive, and run off battery power. The Ring Stickup Cam is very popular (see it on Amazon).
Drone – Drones allow you to get amazing photos and videos of your camp. But they make great tools for checking out what's around you, who's around you, and to gather intelligence on where to hike. You can use them to scope out potential boondocking sites before towing your trailer down a narrow forest road. Drones made by DJI are the most reputable in the industry (see it on Amazon).
Two-Way-Radios – Also known as "walkie-talkies", these come in handy when boondocking in places where cellphone signal is non-existent. They're great when one of you goes out hiking and the other stays at camp. Most of these radios have long ranges, up to 35 miles. They will also deliver NOAA weather reports for your area. Radios made by Midland are very reputable (see it on Amazon).
What About These Other Tools?
Hand Axe – We've kept a hand axe with us for a long time during our boondocking, and have just never used it. I tend to break long branches of firewood with my hands and feet. An axe would be useful if trying to carve logs for some kind of construction, but that's not going to happen while camping.
Tire Patch Kit, Fix a Flat – This has been a debate for us in the past, but ultimately we've never had to use these things. For starters, your RV or vehicle should already have a spare tire (if not you should get one). But two, once you throw on your spare, you should be able to drive into town and get the other tire replaced. The other thing is that it is very difficult to patch a tire without the tools to remove the tire from the wheel. On the other hand, "tire plug" kits (where you jam a piece of sticky rubber into a hole) can't be used in all situations. Fix-a-Flat is just a horrible product in our opinion, and has very limited uses.