The best motorcycle for camping generally falls into one of two trains of thought… spending most of your travel on pavement and enjoying a weekend at a campground, versus enjoying a lot of off-road terrain exploring wilderness and setting up camp in the backcountry. Each side warrants a different type of motorcycle. Even if you're a little bit of both, you might want to take our considerations.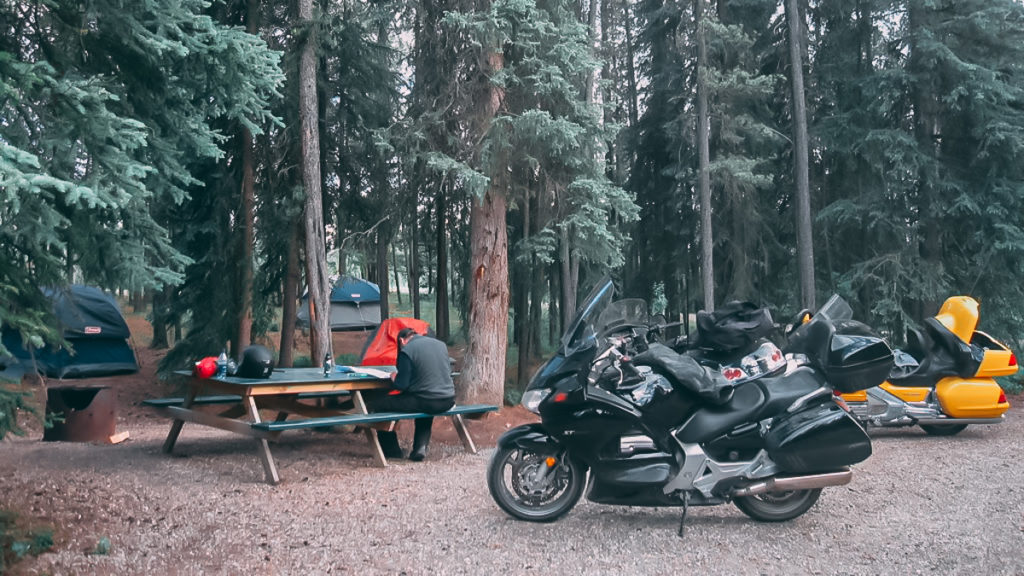 Best Motorcycle For Camping
Even though we have boondocked for years with a toy hauler and pickup truck, we've also spent a few years living on motorcycles alone. We've learned a few important things when it comes to choosing the right motorcycle for taking long camping excursions.
The Two Trains of Thought
Touring Motorcycles – If your idea is to put most of your focus riding pavement and hanging out at developed campgrounds, you're better off doing it with either a full touring motorcycle or a sport-touring motorcycle. We actually prefer the sport-touring motorcycle. While you can pack a lot of stuff on a full touring bike, and ride long distances in comfort, the sport-touring motorcycle also offers lighter weight and better maneuverability.
Dual Sport Motorcycles – If your idea is to explore the backcountry, spending at least half of your time riding on dirt, gravel, or mud, and then boondocking in the middle of nowhere, then get a dual sport or adventure bike. This is because these bikes are lighter, easier to maneuver, and typically are outfitted with tires designed for this type of terrain. These bikes are not as comfortable as touring bikes, and they are not suitable for riders with short legs, however.
Touring Motorcycles
The sport-touring motorcycle offers a nice blend of touring amenities such as storage, power windshield, heated seats and grips, etc., while keeping the overall weight down. They are more maneuverable, easier to lift up when dropped, and cost less than full size tourers.
The full size tourer gives you more storage space, and typically offers more protection against wind, rain, and hail. You do get a few more bells and whistles over a sport-tourer, such as built-in GPS navigation, audio player, or even a CB radio. But they are very heavy bikes and very expensive to buy.
Our picks…

MV Agusta Tourismo Veloce – This is a lightweight sport-tourer, in fact one of the lightest we've seen at just 438 pounds dry. Yet it offers a 5.5 gallon fuel tank over an 800cc three-cylinder motor, which should get you at least 300 miles range. It has a smaller profile than most sport-tourers which translates into more confidence and more fun. You can still pack a tent and sleeping bag on it, along with rain gear, a few changes of clothes and basic necessities. (Visit official website).

Honda Goldwing – Sure, I know Harley guys will barf at this, but come on… the Goldwing offers the most storage, the most comfort, and the most protection against wind, rain, and hail. Despite how big and heavy these bikes are, we've actually ridden one and they are amazingly well-balanced and easy to ride. Moreover, they are less expensive at just $25K in most dealerships, compared to about $32K for the Harley-Davidson Ultra Limited. (Visit official website)
Dual Sport Motorcycles
Also known as "adventure bikes", these motorcycles are designed for both street and dirt. There are two camps in this field, those bikes that favor dirt, and those that favor street. However, both camps are ridden extensively on both.
Dual sport motorcycles are taller, giving them more ground clearance to handle the bumps, dips, and rocky terrain. As such, riders with short legs will find them a challenge. If your inseam is below 32 inches, you might want to find a cobbler who can add an another inch of sole to your boots.
You won't get a lot of amenities with dual sport bikes, though those made by BMW tend to be the exception. Otherwise, what you're getting is the ability to travel off-road, carry camping gear, and do so for long distances.
Our picks…

Honda Africa Twin – OK, a lot of adventure bike purists might spit up their coffee at this one, and yes we do know about the BMW GS, the Ducati Multistrada, and the KTM Adventure. Those are amazing bikes in this category. But let's face it, those three are heavy beasts, extremely expensive, and very difficult to find parts when you're exploring trails in Alaska. On the other hand, The Honda Africa Twin is much more lightweight, making it easier to handle, especially when you have it packed up with camping gear. And besides… who needs 160 HP on dirt trails? Yes, it has more plastic, but then again, there are Honda shops everywhere in the world, and it costs twice as less than the other three. (Visit official website)

Suzuki V-Strom 650 – At the other end of the Dual Sport spectrum are bikes like the Suzuki V-Strom, Kawasaki Versys, and the Triumph Tiger. These are often advertised as "dual sport" but they are actually street motorcycles designed to look like adventure bikes. They come with stickers that say stuff like, "Not For Off-Road Use", yet everyone rides them off-road. Suzuki V-Strom 650 seems to be the king in this field of motorcycles. It's powered by Suzuki's tried-and-true 650 v-twin motor that made its SV line so famous, yet mounted to a taller, lighter chassis that makes it suitable for wheelies and slides on dirt trails. The V-Strom is cheaper than its competitors, and because there are so many of them on the road, you can find a lot of help and after-market parts for them. (Visit official website)