Generally yes, roadside assistance covers boondocking. Insurers don't care if you're boondocking deep inside a forest or in an RV Park. It's really up to the tow truck driver to decide if they are capable of getting their rig to where you are. Otherwise, the insurer is simply there to provide a call center and pay the bill.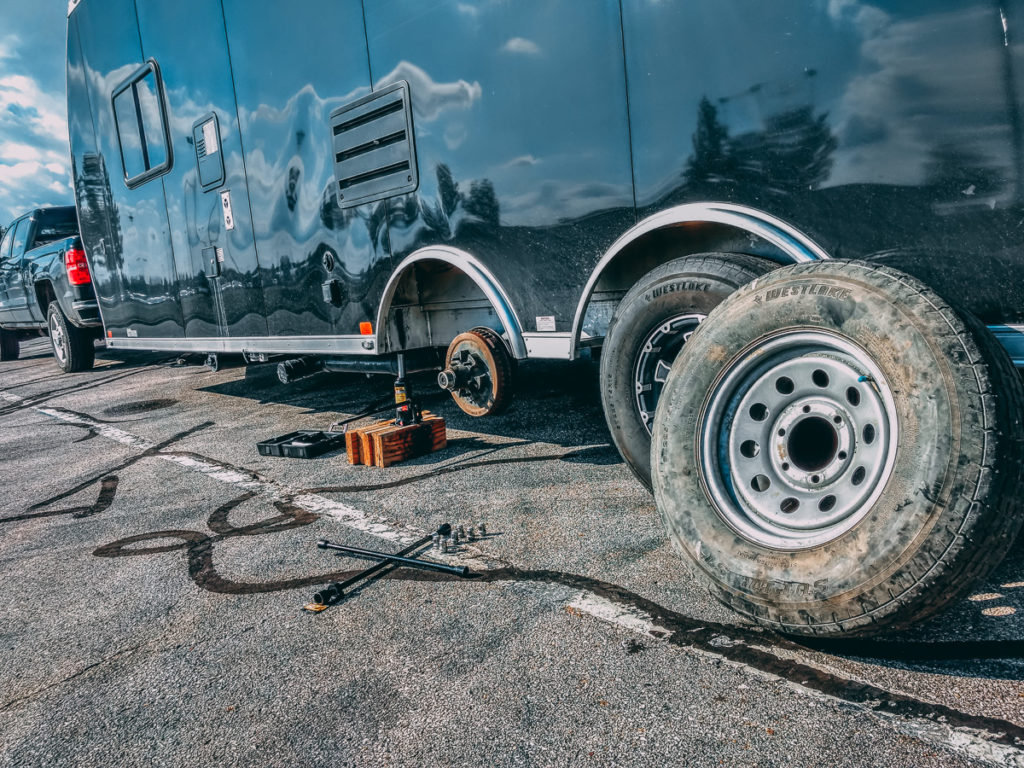 Does Roadside Assistance Cover Boondocking?
Yes, every roadside assistance insurer will cover boondocking. That is, insurers themselves don't have restrictions on what type of road you were traveling on, or where you are currently located. Rather, they see themselves as the checkbook to pay for your assistance, and of course they offer a call center connected to a network of tow trucks and technicians.
Instead, it's up to each tow truck driver or technician to decide if he or she is capable of reaching you…
A tow truck is not required to reach you if they feel their vehicle is at risk of getting stuck in sand or mud, or if the truck is at risk of falling over a cliff.
If you are boondocking in a remote area, it's possible you may have to wait several hours, perhaps even a full day, before someone can get to you.
When calling roadside assistance, make sure to give them your GPS coordinates, so that a tow truck driver can find you.
The Real Question is if Your Policy Will Pay For it
Most roadside assistance call centers will still dispatch a tow truck or mobile mechanic even if your situation sounds like its beyond their policy. However, the insurer may decide not to pay…
Most roadside assistance will pay to get your vehicle pulled out of the mud, but many will only do so if it's reasonably close to the road. If a tow truck has to drive a fair distance off-road, or down an unmarked road, the insurer will likely deny the claim. The tow truck will still attempt to get you out, it's just the insurer probably won't pay for it.
Most roadside assistance will stipulate in their contract that they only pay if your vehicle is located along an established road or marked road. That is, they will not pay if you drove your vehicle away from the road.
Most roadside assistance will not pay when your vehicle is stuck due to damage. For example, if you were camped on the Badlands of South Dakota and were pummeled with softball-sized hail that destroyed your pickup truck so bad that it can no longer be driven, roadside assistance will no longer apply. Insurers refer to this situation as "recovery", and they do not pay for recovery.
Keep in mind that most tow truck drivers and mobile mechanics have a pretty good idea of knowing if your situation will be covered under roadside assistance or not, and may simply ignore your case and wait for the next job.
Many Roadside Assistance Plans Are Severely Restricted
Auto insurance companies will offer roadside assistance plans as "add-ons" to your existing policy. These plans are often highly restricted to getting you out of an emergency. How they define "emergency" can vary from one insurer to the next. But generally speaking, they consider an emergency as being stuck on the side of a highway, or any other situation that poses an immediate threat to your vehicle…
Before getting an add-on to your existing auto insurance policy, make sure that it covers both your tow vehicle and the trailer behind it. Many of these plans will pay only for the pickup truck, but not the trailer behind it.
If your trailer is not included in the roadside assistance plan, the call center will often refuse to dispatch a tow truck to retrieve it.
Roadside Assistance Plans that Cover the Person, Not the Vehicle
There are some roadside assistance plans that don't care what vehicle you are driving, as long as you're stuck, they'll offer assistance. Their coverage also applies if you are a passenger in someone else's vehicle.
Triple A (AAA) is an example of such an insurer. However, they don't cover trailers and toads, only the vehicle in which you are traveling in.
What About Roadside Assistance From My Credit Card?
A lot of credit card issuers are now offering free roadside assistance as a benefit for getting their card. These plans offer very minimal coverage, usually just to help in an emergency, or basic service like unlocking your car, or giving you a few extra gallons of gas. These plans also have caps limiting compensation to just $75.00 on towing, or repair service up to the first 30 minutes.
If you are going to make a habit of boondocking, don't rely on these low level policies. Either stock your vehicle with boondocking tools so that you can get yourself out, or look into an "RV Roadside Assistance Plan".
RV Roadside Assistance Plans
There are several roadside assistance plans designed just for RV owners. Good Sam Club, Coach Net, and FMCA are examples. These plans offer protection that cover a wider range of situations, and will also cover trailers and toads.
However, you should read carefully their coverage policies, even call them on the phone and ask specifically about boondocking in remote areas, before you sign up.