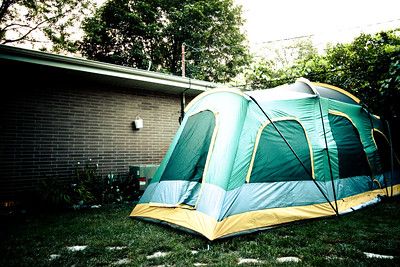 Surprisingly, the answer is "yes" in most cities. Most cities have ordinances that prohibit camping within city limits, even on private property. However, even though it is illegal, many cities have instructed police officers not to make arrests.
Is it Illegal to Live in a Tent in Your Backyard?
Cities have enacted laws in recent years to prevent homeless people from living in their towns. To give law enforcement officers support towards this goal, cities have made it illegal for people to camp within city limits or live in their cars on city streets.
However, most large cities have instructed their police departments not to cite violators for political reasons. But this is generally the policy in downtown metropolitan areas. When it comes to living in a tent in suburban neighborhoods, it's a different matter.
This is because of so many new "Airbnb" style websites that have started up recently allowing homeowners to rent space on their property.
Local officials don't seem to mind tent cities popping up along downtown sidewalks, as long as you or your neighbor is not making money from it. But when it comes to charging someone money to live or camp in your backyard, they have a problem.
Police are Not Likely to Arrest You However
If you're just putting up a tent in your backyard so that your kids can camp in the backyard, you're not going to get busted. However, if you routinely accept money from campers needing a safe place to pitch a tent for the night, then you'll probably get a knock on your door from the authorities.
Homeowners Associations Don't Allow Camping Withing Their Jurisdiction
Most HOAs prohibit home owners from pitching tents on their property as permanent domiciles. While it's generally not a problem if you're doing it for one night, it will be a problem if you're letting someone camp in your backyard for weeks or months at a time.
It will be a bigger problem if you are running a business doing it. Neighbors don't want to see routine traffic of tent campers moving in and out of their community. They don't want to hear noise at night, and are constantly worried about their property value dropping.
What Types of Laws Make it Illegal to Live in a Tent in your Backyard?
Cities generally enact a few types of laws that make it illegal to live in a tent in your backyard…
Anti-Camping Laws – Most all cities have laws against camping within city limits, with the exception of RV parks and campgrounds. Enforcement of this law is selective based on the political climate of the city, and in what part of the city.
Zoning Laws – RV Parks and campgrounds can only exist in specific areas of town where city officials have permitted. If you're making money by letting people to camp in your backyard, you could be classified as an RV park or campground operating in area not zoned as such.
Sleeping in Vehicles – Many cities are also enacting laws against sleeping in vehicles, which effectively shuts down overnighting in Wal-Marts and Cracker Barrels.
No Overnight Parking – Cities are also changing permitted parking hours along city streets, usually specifying the hours of 2:00 AM to 5:00 AM as being illegal.
Housing Laws – There are also laws that define what a domicile is, requiring certain building codes including access to toilets, running water, windows, doors, heating and cooling, etc. Hence, if someone is using a tent as a permanent domicile, you can expect a visit from a building code inspector.
Laws Against Off-Grid Living – Many cities, counties, even some states, now require that permanent domiciles be connected to utilities, including electricity, water, gas, and sewer. Again, if you're claiming your tent as a permanent domicile, you may be violating these laws.
What About Those Tent Cities in Downtown?
The recent trend of tent cities popping up in urban areas has more to do with drug addiction than a lack of affordable housing. Because these people are drug addicted, it becomes difficult for local officials to solve the problem.
Moreover, most large cities have created "homeless task forces" that raise money on the hope of solving tent cities. However, most of these task forces do little else than to pad the pockets of politicians.
For this reason, local officials welcome the influx of tent cities so as to keep money flowing into these task forces.
But if they catch a single homeowner making money renting space in their backyard, you can be sure they will put a stop to any amount of competition.
Some BLM Land Exists within City Limits
There are small pockets of land owned by the Bureau of Land Management (BLM) that exist inside city limits. These are usually patches of hill tops, mountain tops, ravines, or excessively boulder-laden pastures, that are impossible for residential or commercial development.
It's even illegal to tent camp on these patches of BLM land. This is because the BLM is treated like any other land owner. Even though BLM land is owned by the federal government, and technically belongs to the people, it's still subject to local laws.
See our other article, "BLM Camping for Free" for more specifics on BLM camping.