No, it is not generally illegal to start a campfire on most federally managed lands. However, there are many restrictions and guidelines. Each of the six agencies that manage federal lands have rules in place on starting a campfire, where it can be started, and how it must be supervised. But generally speaking, campfires are permitted. You just have to take great care in knowing the rules.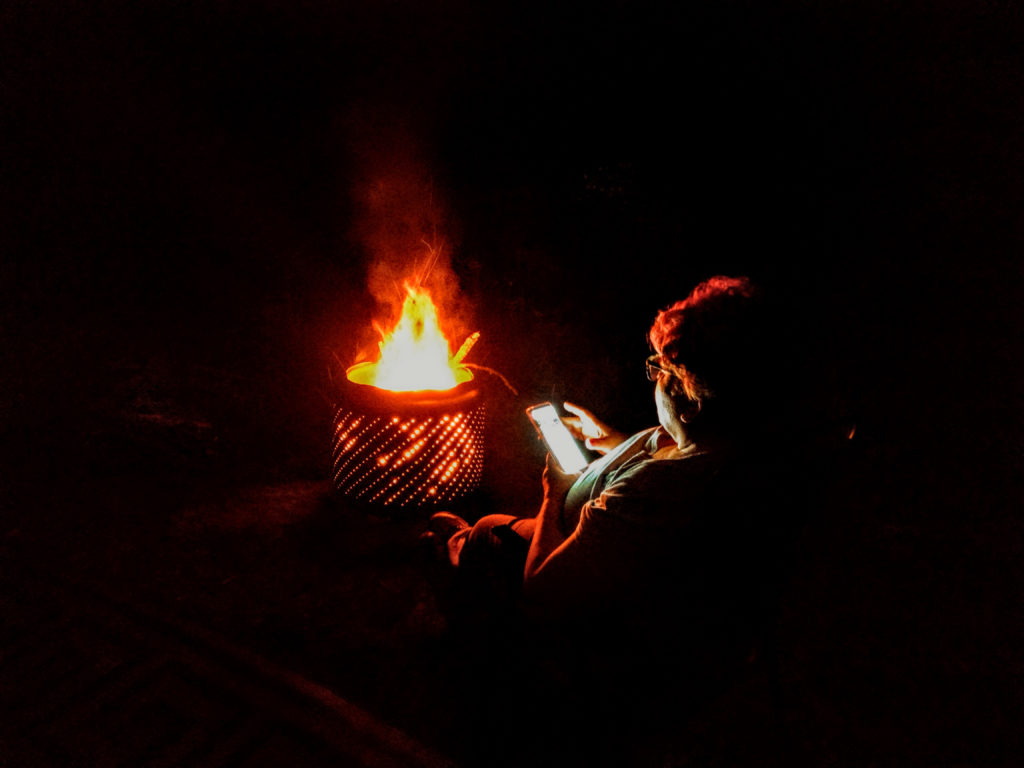 Is It Illegal to Have a Campfire?
Bureau of Land Management
The BLM in general does not prohibit campfires on its "public lands", which are lands that carry no other special designation or purpose. They issue no rules on a national scale, thus you can start a campfire in just about any way, shape, or form. However, the BLM does have a rule against creating a risk to other persons, which includes creating a "hazard or nuisance". See BLM Rule § 8365.1-4 "Public health, safety and comfort". This would only apply if you allowed your campfire to grow too large and did not adequately supervise the fire.
However, the BLM does allow each of its field offices to make their own special rules. These rules would apply only to lands managed by that field office. It is common for field offices to issue a temporary fire ban in cases where temperatures get extremely hot, or where strong winds are expected to blow, or where there is unusually dry brush and tinder.
Some field offices will require a campfire permit. These permits are usually very inexpensive, or free.
You will have to contact the specific BLM field office that manages the land you are camping on to find out what campfire restrictions may be in place.
U.S. Forest Service
The USFS in general does not prohibit building campfires, but does issue several rules on what specific acts are prohibited. Among them are, 1. carelessly or negligently throwing or placing any ignited substance or other substance that may cause a fire, 2. leaving a fire without completely extinguishing it, and 3. building, attending, maintaining, or using a campfire without removing all flammable material from around the campfire adequate to prevent its escape. There are more rules to this which you can read at, "§ 261.5 Fire."
However, each national forest and national grassland is allowed to set its own rules on campfires. Most forests and grasslands will temporarily ban campfires, as well as outdoor cooking equipment, depending on weather conditions or dry tinder conditions. You can visit the USFS website, drill down to a specific forest or grassland, and find their current notices and warnings.
Most forests and grasslands do not allow campfires on open ground. They generally require campfires to be restricted to a metal container, which may include a barbecue grill, metal fire pit, or a metal fire ring. If a campfire on open ground is permitted, there will usually be specific rules on keeping the ground cleared off of leaves and debris in a 5-foot radius, as well as keeping a bucket of water on hand, and a shovel.
Campfire permits are required in some national forests and grasslands. These are generally free of charge. You can obtain them at a ranger station or visitor center. Some forests will offer a website where you can view a short tutorial, answer a quiz, and then download the permit to your phone.
National Park Service
Campfires are generally permitted by the National Park Service, as long as they are restricted to designated areas and designated receptacles. You are not allowed to start a campfire on open ground, and nor are you allowed to start a campfire in a receptacle other than the one offered by the park. Campfire permits are not normally required.
Each national park is free to establish additional rules, and many have done so. You will have to check with a park visitor center to determine what those rules are.
When backcountry camping, campfires are not permitted, unless the park has established specific camping sites with their own fire rings or grates.
The full set of "general" rules for campfires can be found at, "§ 2.13 Fires."
Bureau of Reclamation
Campfires are permitted on Bureau of Reclamation recreation areas. Because most of what the BOR operates are developed campgrounds, fires are generally restricted to fire rings and grates provided by the campground. Each campground comes with its own set of rules, which are usually posted at the entrance to the campground.
However, the BOR does permit dispersed camping in some areas. In this case, campfires are still permitted, but come with a set of general rules, among which are, 1. You must not leave a fire unattended, and it must be completely extinguished before your departure, 2. You must not burn materials that produce toxic fumes, and 3. You must comply with all applicable Federal, State, and local fire orders, restrictions, or permit requirements. You can read the full set of rules at, "§ 423.31 Fires and flammable material".
U.S. Fish & Wildlife Service
Campfires are not specifically prohibited at national wildlife refuges, however each refuge will post specific rules about camping and whether or not campfires are permitted. In refuges where camping is permitted, most have designated campsites. These campsites generally come with fire rings or grates, and in that case campfires are usually restricted to those containers.
Leaving a fire unattended or not completely extinguished is specifically prohibited across all refuges. For more general rules on campfires at national wildlife refuges, read, "§ 27.95 Fires."
Army Corps of Engineers
Campfires are permitted on ACOE lands, but only in areas specifically developed or set aside for camping. These include developed campgrounds and dispersed camping areas that the ACOE has set aside. Lands not specifically developed for camping, or set aside for camping, is generally off-limits for campfires. These include parking lots, viewing areas, or lands with no access roads.
All fires have to be confined to a metal container, such as a fire ring, barbecue pit, or other metal fire container. Fires cannot be left unattended and must be completely extinguished prior to departure. The burning of materials that produce toxic fumes, including, but not limited to, tires, plastic and other flotation materials or treated wood products is prohibited. Improper disposal of lighted smoking materials, matches or other burning material is prohibited.
Each ACOE district is responsible for setting additional camping rules at each campground or camping area. These rules will be posted on a sign near the entrance, or often at a pit toilet.
See all ACOE rules relating to fires at, "§ 327.10 Fires."