The different colors on Google Maps generally refer to varying types of government jurisdictions, natural features, and civic areas…
Google Maps Colors
What do the colors mean on Google Maps?
Colors represented on Google Maps reflect various level of vegetation, ranging from (white) no vegetation, to (dark green) heavy vegetation. However, even though this is Google's intent, it doesn't always translate when you switch from Map View to Satellite View. This is because Google assigned these colors based on an algorithm that analyzed satellite photography. That satellite photography was not able to reflect vegetation changes accurately.
For example, there are places on Map View colored "Gray" (lava rock, tundra) when in fact there are grasses and scrub. This was caused by color complexities reflected on satellite imagery. In another example, Bonneville Salt Flats shows up as "Beige" (scrub, grass, chaparral) on Map View.
White: complete lack of vegetation, sand dunes, glaciers, mountain peaks
Gray: Lava rock, tundra
Light Gray: Military bases, bombing fields, restricted areas
Tan: Sparse vegetation, rocky ground
Beige: scrub, grass, chaparral
Light Green: Vegetation, trees, brush
Dark Green: Dense vegetation, thick forest
Administrative Boundaries
Borders and boundaries of state and national parks, forests, grasslands, monuments, recreation areas, military bases, cities, communities, are all reflected with straight lines and angles. Meanwhile, color changes reflected with curved lines represent differences in vegetation.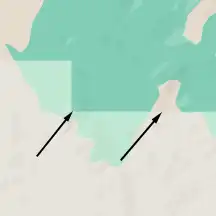 Color changes represented by straight lines and angles: changes in administrative boundaries.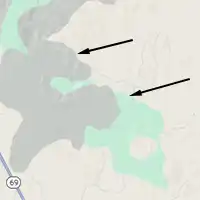 Color changes represented by curved lines: changes in vegetation Hatch with gray outline: Indian reservation
Cities and Indian Reservations
Cities and communities are all reflected in white with straight lines and boundaries.
Indian reservations are reflected in diagonal hatch lines with gray outline. This hatch representation is overlayed on top of vegetation colors, which creates yet different shades of colors. This is more evident when looking at eastern Oklahoma where the hatch is laid over Tulsa and its parks.