Most propane tanks can be refilled at travel centers like Pilot, Flying J, Loves, and others. Many farm and ranch stores like Cal Ranch Stores, Big R Stores, and others will offer refills. Some gas stations will refill propane tanks. Most propane suppliers will also do small tank refills.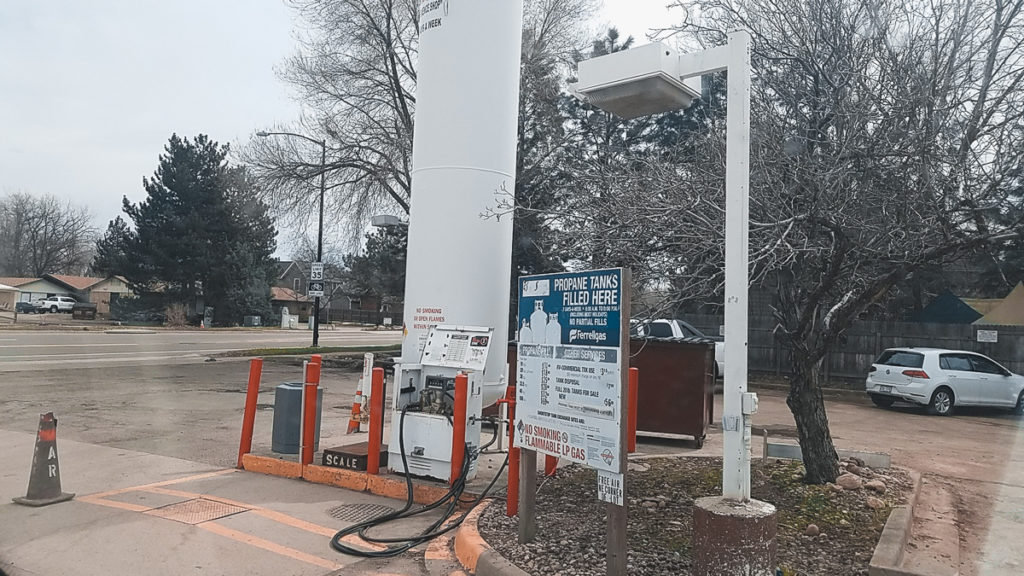 Where Do I Refill a Propane Tank?
Most travel centers like Pilot, Flying J, and Loves will offer propane tank refills. These places are ideal for RVers because they offer more space to get their rigs in and out of.
Other places that you can usually count on to refill your propane tank…
Propane suppliers like AmeriGas, Ferrellgas, Suburban, and others that typically service residences, will usually have a propane tank refill station that will refill tanks you bring to them. They will also take your old tanks and sell you new ones.
U-Haul storage facilities (not just U-Haul rental centers), offer propane tank refills.
Some gas stations will refill propane tanks.
Farm and ranch stores, like Cal Ranch Stores, Tractor Supply, and Big R Stores, will refill propane tanks.
Do a Google Map Search
Go to Google Maps, and type in "propane tank refill" and it will show places near you that refill propane tanks. (Click here).
Use FreeRoam to Find Propane Tank Refills
Among the many cool tools that FreeRoam offers to boondockers is a USA map showing where you can get propane tanks refilled. (Click here).
Some Places Won't Just Fill One Tank
We have seen a few gas stations with signs stating they have a minimum of 6 or 7 gallons propane refill. Since the most common propane tank is a 20-pound tank, which can hold as much as 4.7 gallons, then you need to bring at least two of those tanks, or one 30-pound tank. If you only bring a single 20-pound tank, they will charge you for the 6 or 7 gallon minimum.
The reason they do this is because these gas stations are very busy and they don't want to take time away from their other customers having to fill a single tank.
We always boondock with four propane tanks. When we get down to two or three empty tanks, we put them in our pickup truck and take them into town for refilling. We never refill just one tank.
Tanks Older Than 12 Years Cannot Be Refilled
There is a federal law requiring any tank older than 12 years of age (or 10 years in Canada) to be re-certified for continued use, otherwise it can no longer be refilled. Recertification can be done at a propane supply company like Ferrellgas, AmeriGas, Suburban, etc. However, the cost of recertification can sometimes cost as much as a new tank.
You can verify the age of your tank by looking at its collar. You should see some numbers like "02 17", which means February 2017.
A service attendant is supposed to check the tank's age before refilling. They are also supposed to inspect the tank for damage. However in our experience, it's very rare for an attendant to do this.
How to Get Rid of Old or Damaged Propane Tanks
The two most common ways to do this…
Best Way – take it to a propane tank exchange, and swap it out for a filled tank. Most gas stations have a locked cage with propane tanks inside. Just pay inside to get a filled tank, and leave the old one there. You can always remove the labeling on the filled tank, keep it permanently, and get it refilled each time. If you do this, make sure to check the age of the tank you're getting to ensure it has a lot of years left.
Next Best Way – take it to a propane supply company like AmeriGas, Ferrellgas, or Suburban. They will take your old or damaged tank for free, sell you a new (empty) one, and fill it at additional cost.
What About a Propane Tank Exchange Versus Refilling?
The only disadvantage of exchanging a propane tank for a prefilled tank is that prefilled tanks are never fully filled. They are typically filled with about 4.0 gallons of propane when the tank is capable of holding 4.7 gallons. However, exchanges usually charge you about 6.5 gallons of propane for the luxury of doing an exchange.
Thus, if propane costs $3.00 a gallon, you will pay $19.50 for the exchange, when it could have costed you $14.10 doing a refill.
The only time it makes sense to do a propane tank exchange is when you want to replace an old or damaged tank with a newer one. In this case, you can leave the old tank at the exchange and get a newer tank with propane already in it. This will cost you about $19.00 to $20.00. By contrast, a brand new propane tank (empty) will usually cost you $40.00 to $60.00 at most places.