There is no real difference between a "Three Season RV" and a "Four Season RV". Moreover, the terms themselves are an irony because all RVs can be used during any season of the year, as long as you move it to warmer weather. There are also legal reasons why some RV manufacturers use the term "Three Season" while the term "Four Season" is much more vague as to what it actually means.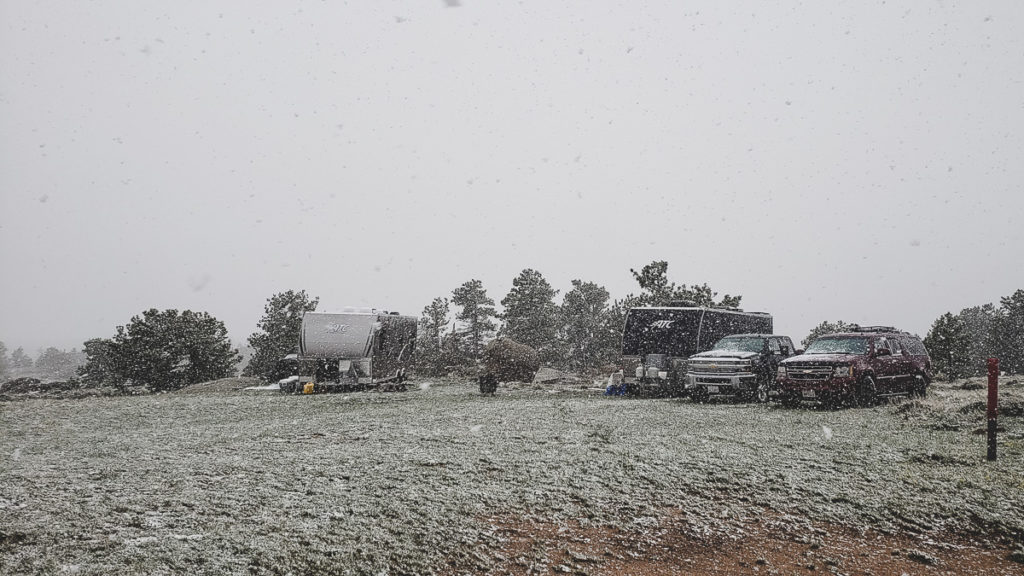 What is the Difference Between Three Season and Four Season RVs?
First off, there is no industry standard definition of a "Four Season" RV versus a "Three Season". These terms are used liberally by manufacturers to attract buyers.
Both the terms "Three Season RV" and "Four Season RV" are used to describe an RV that was built to be used all year round, even during the Winter. However, an RV sold as "Four Season" is not necessarily better equipped than one sold as "Three Season".
The term "Four Season RV" is primarily an ironic term. Because all RVs are designed for travel, you can simply move an RV to Arizona, Texas, or Florida during the Winter. Thus, technically, all RVs are "Four Season".
However, manufacturers do indeed design their rigs to withstand freezing conditions to some lesser or greater degree. But, there is no way to guarantee than an RV will hold up to the most severe winter weather. Even if a manufacturer set out to create the most freeze-proof RV, it would be far too expensive for most boondockers to afford. Thus in the interest of maintaining affordability, all manufacturers cut corners in different ways.
Even worse, there is no way to guarantee that a human being won't suffer from some kind of freeze-induced illness or injury while staying inside an RV that was marketed as "Four Season".
The term, "Three Season" is used by some manufacturers primarily for reasons of liability and warranty. Meanwhile other manufacturers use the term, "Four Season" but will require buyers to sign some kind of release of liability as well as include limitations in their warranty.
All RVs are Four Season
The term "four season" was originally coined by the home building industry to identify a house, or a room, that was meant to be used at all times of the year. The term "three season" came about to describe the opposite, a house or room meant to be used seasonally.
However, there is no such thing as an RV that cannot be used during the Winter (or Summer). This is because all RVs can travel to warmer or cooler weather and thus be used in all four seasons.
What to Evaluate When Buying a "Four Season" RV
If you see a sticker on an RV that says, "Four Season", don't rest on your laurels. Remember that "Four Season" doesn't mean anything at all if you can still move your RV to fair weather.
Instead, take the time to discover exactly what the manufacturer has done to freeze-proof their RV…
What is the "R Factor" in the walls? Low "R Factors" of 3 to 6 are generally inefficient at retaining heat, look for an R Factor or 7 or higher. You can still stay warm running a furnace or space heater, but you will end up running that heater more often.
Inspect the Water Line. It should be wrapped with a pipe heater. Most RVs have a water line running below the rig, making it exposed to the outside air. If this line is not wrapped with a pipe heater, then the line will freeze when air temperature drops to about 25F. Wrapping a water line with insulation will help, but is not nearly as effective as a pipe heater.
Water lines ran inside the RV is better. Not many manufacturers do this, but running the water line inside the RV is the best way to prevent it from freezing.
Water Tanks and Sewage Tanks should have heating pads on them. But heating pads can only do so much. It's just not possible to prevent tank freeze in the coldest temperatures.
RVs with generators are required to prevent freezing. This is primarily to keep your batteries charged. Pipe heaters and tank heaters all run on house battery power. Your RV's thermostat also runs on house battery, as does the circuit board on your RV furnace and water heater. Solar panels are just not as effective in Winter due to decreased sunlight. Running a generator means being able to run an electric space heater or two at the same time.
Don't Rely on the Manufacturer to Keep You Warm
Read our other resources about how to stay warm during freezing temperatures…