Fifth-Wheel or Bumper Pull? Class A or Class C? Van or RV? Which "type" of RV is better for boondocking? The answer can depend on how long you want to remain parked, what climate you are in, or how rugged the terrain you're hoping to camp in.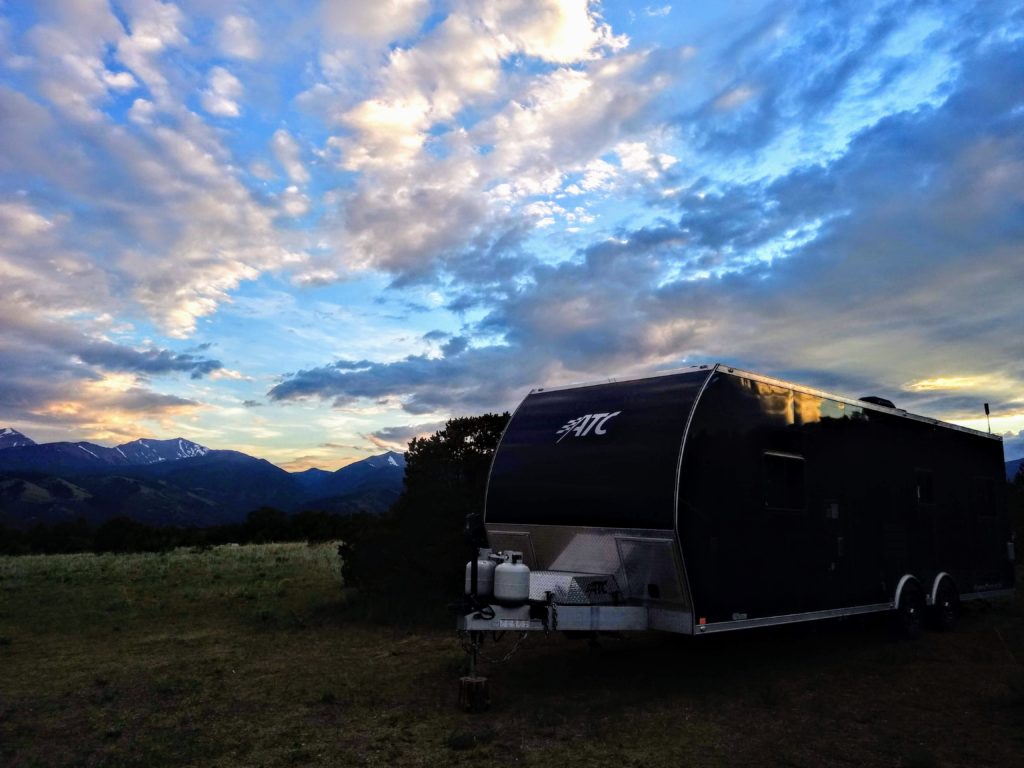 Which Is the Best Type of RV for Boondocking?
A small bumper-pull travel trailer is the most popular RV for full time boondocking.
The reason has more to do with being frugal. Smaller pull-behind travel trailers (as opposed to longer fifth-wheels) tend to be less costly to own and maintain. They're easier to repair and improve yourself. Small pull-behind trailers tend to have higher ground-clearance too. Smaller trailers are also easier to maneuver through tight turns. Because full time boondockers often look to cut their expenses, they tend to find smaller, pull-behind trailers more conducive to their goals.
Why Toy Haulers Make Great Boondocking Trailers
Toy haulers are uniquely suited for boondocking because they are built much more rugged than travel trailers. Because they are designed to carry vehicles, they come with heavy-duty axles. The benefit to you as a full time boondocker, is that you can carry more stuff.
Where most travel trailers in the 20 to 28 foot range can carry 750 to 2,000 pounds of cargo, a similar sized toy hauler can carry between 2,000 to 6,000 pounds of cargo. That means being able to bring more clothes, more tools, more cooking equipment, more food and water, more solar panels, a bigger battery bank, etc.
ATC Trailers build a line of toy haulers made completely out of aluminum, thereby eliminating the problem of rust, rot, mold, mildew, and other problems associated with full time RVing. View their inventory here.
Fifth-Wheels Are Still Popular for Boondocking
It just depends on your level of boondocking. If you prefer to camp in places with more level ground, or places specifically designated for camping but without hookups, fifth-wheels do just fine. Typically, however, fifth-wheel trailers have lower ground clearances, and longer rigs can be a challenge to maneuver through tight turns. Heavier rigs are also more difficult to pull up through sandy, gravel elevations.
If you already have a fifth-wheel trailer, don't let the idea of boondocking discourage you. A lot of boondockers have fifth-wheels and have developed the skills to tow them through some very rocky, bumpy roads in deserts and forests. It's just that the smaller, bumper-pull trailers tend to be more popular for full time boondocking.
Motorhomes, Class A, B, and C for Boondocking
Generally, the smaller the motorhome, the better. This is because in many boondocking areas, there are dirt roads with tight turns, steep dips, and narrow turnarounds. But then again, it just depends on where you pick your boondocking locations. There are still lots of places with wide, flat areas for camping. But, if you want the most opportunities for dry camping, smaller is better.
Motorhomes tend to be more difficult to repair and improve on your own just because the engine, drive train, and wiring get in the way of the RV part of the vehicle. It's harder to find parts for Class A motorhomes as opposed to Class B and C.
Moreover, full time boondocking is generally something RVers do out of saving money, and hence a long Class A bus is something better suited for high-end RV resorts.
See our other article, "Trailer Versus Motorhome – Which is Better for Boondocking?"
Make Sure the RV Has Everything You Need
Don't rely on a tiny tear drop for full time boondocking because over the course of months and years, you're going to be miserable.
You will want something large enough to offer a stand-up shower, a toilet connected to a black tank, a cook top, a refrigerator, running water, and enough space for solar panels and a decent sized battery bank. If your goal is to live full time, off grid, on the road, then invest in something large enough to give you all the amenities of comfortable living, while still staying small enough for easier mobility, repairs, improvements, and cost.
At the very least, get an RV that offers its own water tank, water pump, toilet with black tank. This also means needing a decent sized battery bank (to power the water pump), and a means to recharge those batteries (either solar panels or a portable generator).
What About Composting Toilets?
You might think that a composting toilet is more eco-friendly, but on those days when you have the "burning ring of fire", or barfing up a Filet-O-Fish sandwich, you will definitely "wish" you had a standard RV toilet with a black tank. Composting toilets are all fun and games until you have to deal with rotten egg-smelling bodily reject. Those are the times when you just want to "flush it and forget it". If you're going to make boondocking a full time lifestyle, do yourself a favor and get a standard RV toilet with black tank.